Instructions for firmware Antminer S9
HOW TO overclock Antminer S9 to 17.5-18TH
Which asics can be overclocked?
What is the maximum overclock hashrate?
Which pools are suitable for overclocking?
Manual: how to overclock you asic
Asic models that can be overclock:
-All models of S9 can be overclocked: S9 13T, 13.5T, 14T, 14.5T, S9I, S9J
The maximum overclock hashrate and power consumption:
-According to the operating conditions the asics can be overclocked to 18Th, but we
recommend to overclock to 16-16,5 TH, with power consumption 1600W. Here below you
can see the table with hashrate, profit and power consumption.
(Calculations were made based on the cost of electricity 0.05USD, and the cost of bitcoin are revelant on 10/17/2018)
Hashrate
Power consumptions
Electricity
costs
Pure profit
Comments
13.5 TH
1210 watt
1,85 $
0,98 $
Standard BITMAIN
FIRMWARE S9
15 TH
1330 watt
1,85 $
1,29 $
15.5 TH
1380 watt
1,91 $
1,33 $
16 TH
1465 watt
1,98 $
1,37 $
Recomend
16.5 TH
1590 watt
2,12 $
1,34 $
Recomend
17 TH
1695 watt
2,31 $
1,25 $
PSU 2200w
17.5 TH
1745 watt
2,37 $
1,29 $
PSU 2400w
18 TH
1810 watt
2,57 $
1,20 $
PSU 2500w
3. Which pools are suitable for overclocking
Today our firmware supports all pools with Asicboost:
Antpool: stratum+tcp://stratum.antpool.com:3333
F2pool: stratum+tcp://stratum.f2pool.com:3333
SLUSHPOOL : stratum+tcp://cn.stratum.slushpool.com:3333
BTC.COM : stratum+tcp://cn.ss.btc.com:1800
ETC…
4. Installing firmware and overclocking
4.1 To start you need to go to the mines's admin panel, and then go to thepoints "SYSTEM"—"UPGR DE"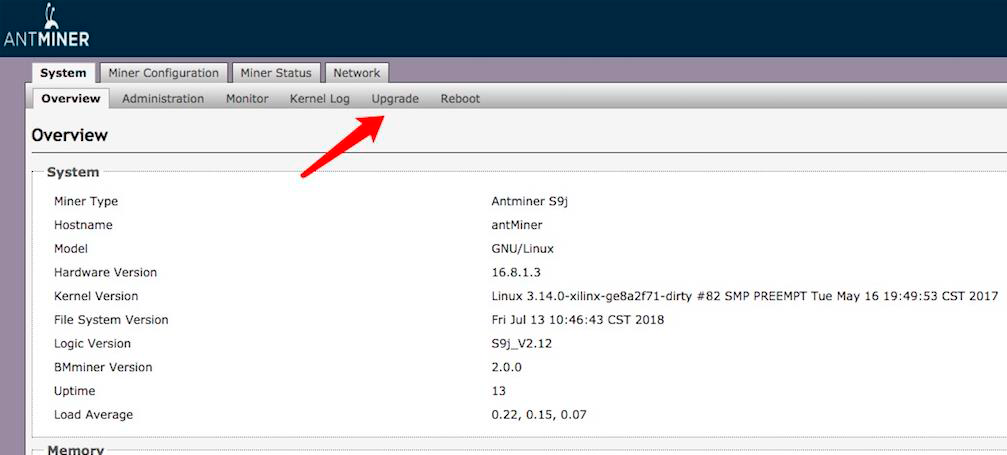 4.2 Remove the checkmart from "Keep Settings", click "Select file"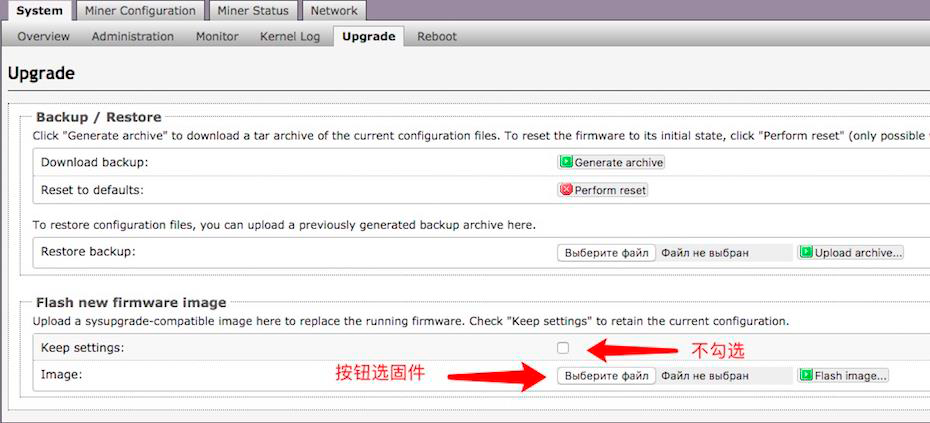 4.3 Select firmware file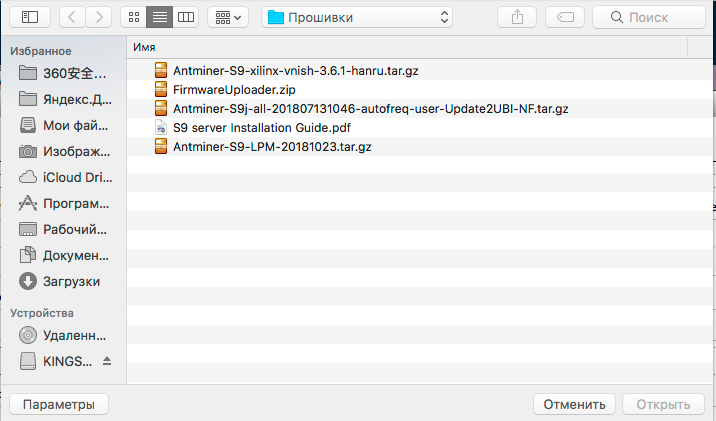 4.4 Press «Flash Image» and wait 120 seconds

4.5 After downloading the firmware, when loading the admin panel, an error 404 can be appear, then leave only the device's IP, delete everything else and click refresh the page (CTRL F5), example: 192.168.1.138/cgi-bin/miner, part CGI-bin / miner must be deleted, and the numbers 192.168.1.138 leave and press Enter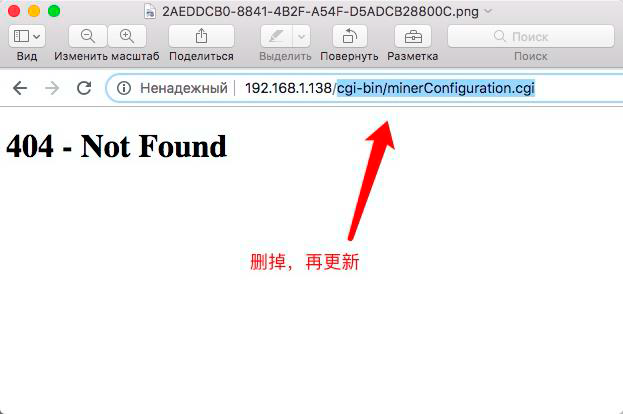 4.6 After the miner is loaded, go to the "MINER CONFIGURATION" and click "SAVE" to apply the new firmware settings.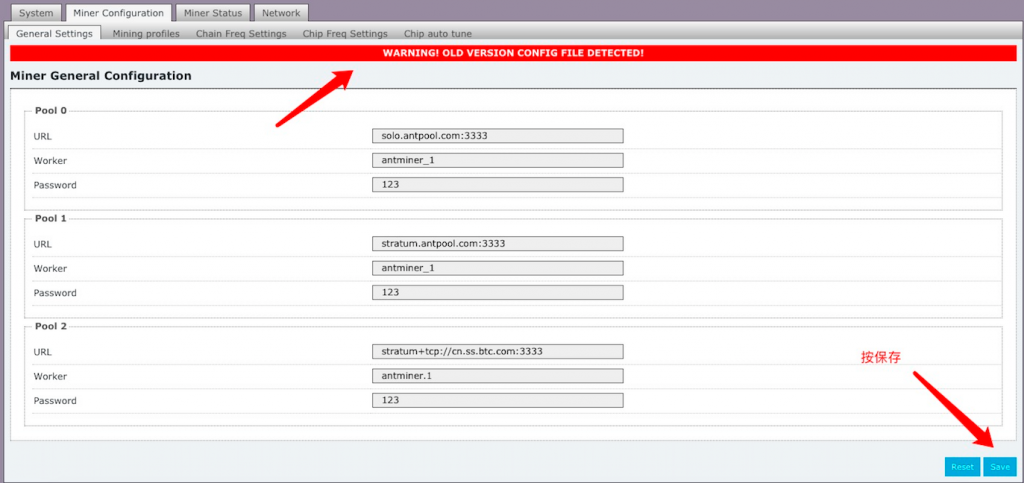 4.7 Further in the column "MINER CONFIGURATION" – "MINER PROFILES" you can adjust the
level of acceleration of ASIC, as well as apply other settings (optional) In the "PRESET" line,
it is necessary to select the level of overclocking , just select the "ASICBOOST" – ON
option to apply low-level power consumption. Click "SAVE" to apply the settings.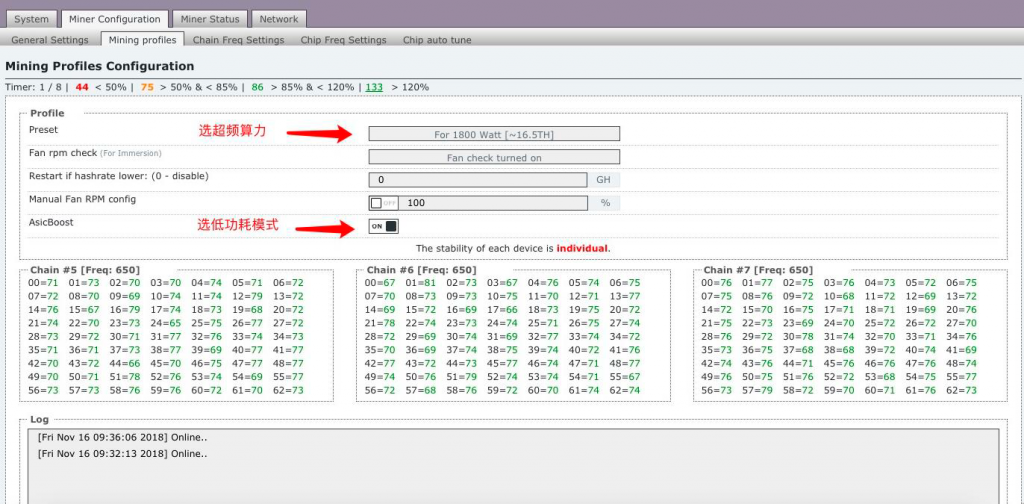 4.8 The provider blocks devfee and asic constantly reboots.New DevFee section, now everyone can choose the most suitable server for ping and stability.


After applying the settings, the asic needs
1.5 hours to automatically adjust the optimal
operation of the chips, during this period, the
asic will periodically reboot – this is normal!
Problems?
On several machines, this process lasted for quite a long time – Solution:
1. Disable ASIC for a few minutes from the power and re-enable it (in 90% of cases this is
resolved)
2. lowering the selected frequency.
3. Motherboards fell off during mining, you need to turn off the power supply for 5-7 minutes, then
turn it on again for stable operation of the firmware.
Attention!

Instructions for restoring firmware by MICRO SD for Antminer S9, S9i, S9j.



1.If you have installed the latest firmware version from Bitmain with signature or with closed SSH.
2. Machine is infected with a virus that close Ssh and changed  password.
3. If the control board is not responding or other cases.

Download the image: https://yadi.sk/d/ERBbwuuz4-WtnA . This is an image for any flash drive in size from 256 megabytes to 32 gigabytes. It is deployed to a USB flash drive with any tool, such as Win32 Disk Imager or Rufus https://rufus.ie/ru_RU.html
Initially, on the control board jumpers are like this.
We put them here in this position.
Turn on the control and wait 60 seconds before the blinking of the LEDs. The main thing – wait for the constant periodic blinking of the LEDs. Because once they blink in 20 seconds. Exactly in 60 – they will blink constantly. This image restores the firmware from any state.

After  procedure  turn off the control board, return  jumper, remove  sd card.

Install custom firmware as standard by web interface from our website.
Firmware Support Telegram:
https://t.me/asicfirmware
Attention: We recommend to overclock ASICs
by no more than 17 TH, all overclocking is higher, it requires replacement with a more powerful
unit (2000-2500Wat) and more powerful cooling
Manual for firmware Antminer S9 firmware CrMi. Suitable not only for CrMi firmware but also for others. Before starting the update, update your browser's cache.
Overclock manual Antminer S9